Our team
The choir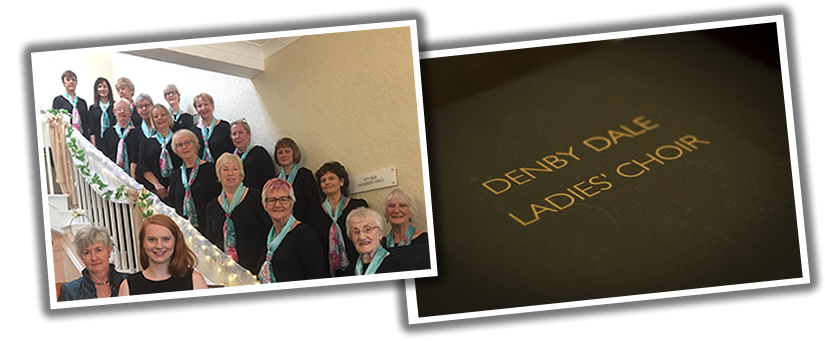 Our 35+ singers of all ages from 20 years upwards form a friendly community with widely varying musical experience and lots of talent! Some members have extensive musical ability and knowledge, whiIe others are learning skills such as vocal production and sight-reading week by week.
Musical Director: Sarah Ogden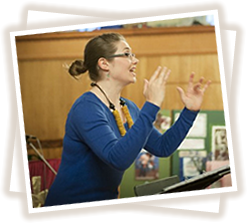 Sarah took the reins as MD of Denby Dale Ladies' Choir in September 2010. She graduated from the University of Birmingham in July 2005 where she received vocal tuition at the Birmingham Conservatoire. Her performances in Birmingham include Mahler's Lieder eines fahrenden Gesellen, Vaughan-Williams' In Windsor Forest, Britten's Rejoice in the Lamb, Handel's O Praise the Lord with One Consent and The Countess in Mozart's The Marriage of Figaro.
Since moving back to Yorkshire, Sarah has been tutored by Patricia Hamilton and is in demand for many local engagements including Haydn's Harmony Mass, Vivaldi's Gloria, Pergolesi's Stabat Mater, Rossini's Petite Messe Sollenelle, Fauré's Requiem, J. S Bach's Magnificat in D, Dvorack's Stabat Mater, Mozart's Mass in C Minor and numerous performances of Handel's Messiah. She also enjoys performing in local concerts and at after dinner engagements. Sarah has had many successes in local music competitions, including the title of Kirklees Young Musician of the Year 2006.
Sarah teaches a number of voice students and conducts the Hade Edge Community Choir. She is currently studying towards a Postgraduate Diploma in Performance at the Royal Northern College of Music.
Accompanist: Sue Ogden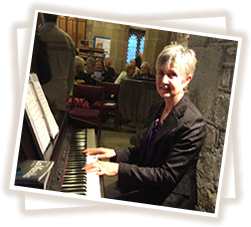 Sue started piano lessons at the age of eight. Her love of accompanying quickly became evident at high school where she played for the school choir and for soloists in concerts. She gained a BA (Hons) in Music at Huddersfield Polytechnic, studying piano with Martin Roscoe, as well as organ and harpsichord. She then completed a PGCE and holds an LTCL in Piano Performance. Sue has always worked in the Huddersfield area, teaching music from Primary through to FE level. After more than 20 years in the primary classroom as well as five years of teaching piano and keyboard for Kirklees Music School (#Musica), she now focusses on her private teaching practice and accompanying. She plays for classes at Holmfirth Musical Festival and for the Kirklees Primary Music Festival. Sue has accompanied a number of local choirs and amateur dramatic societies, performing a wide range of music from Bach to Buddy Holly. She has been The Huddersfield Singers' regular accompanist since 2001 and was appointed to Denby Dale Ladies Choir in 2013.
Deputy Musical Director: Norman Bailey
When our former MD Margaret Taylor retired in 2009, Norman stepped in as Acting MD until July 2010. He did a fine job of continuing the choir's vocal development and with him we took First Prize in our classes at both the 2009 Penistone Festival and the 2010 Wharfedale Festival. Norman continues to act as our Deputy Director, ready to keep us on-song whenever Sarah is unable to be with us!
Would your choir or band like to join us for a concert?

We'd love to hear from you!