News and reviews
On this page you'll find some of our news and press coverage as well as the all-important views of our lovely customers and audiences…
50 Golden Years, a celebration concert with Black Dyke Band
Huddersfield Town Hall
Saturday 21st October 2017
7.30pm

Tickets are selling fast for the choir's 50th Anniversary Concert in Huddersfield Town Hall with the world renowned Black Dyke Brass Band. Don't miss out, book today to avoid disappointment!

Book your tickets here

This even it proud to sponsor the Forget Me Not Childrens Hospice


October 21st 2017
Three Choirs, One Cathedral
On Saturday night, Wakefield Cathedral was filled with glorious singing from three choirs who joined together to raise money for the Kirkwood and Wakefield Hospices. It was truly a special evening with all three choirs giving excellent performances to a capacity audience who, going by the length of applause, had a great night of entertainment. Our Musical Director, Soprano Sarah Ogden, also delighted the audience with her solos. The choirs and Sarah joined together to sing two joint items – Tell me it's no true (from Blood Brothers) and How Great thou art in which they were accompanied by Cathedram organist Tom Moore.

'Stunning', 'wonderful', 'marvellous' and 'superb' were just a few of the words used by the audience to describe the evening as they left the cathedral.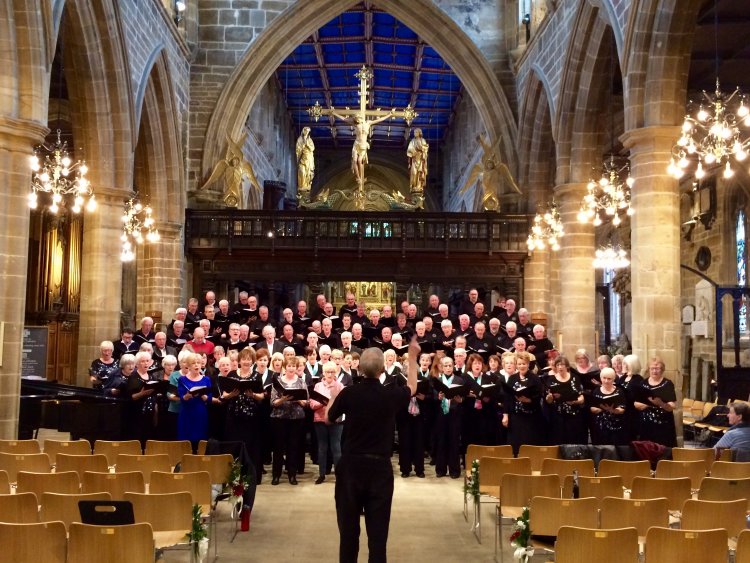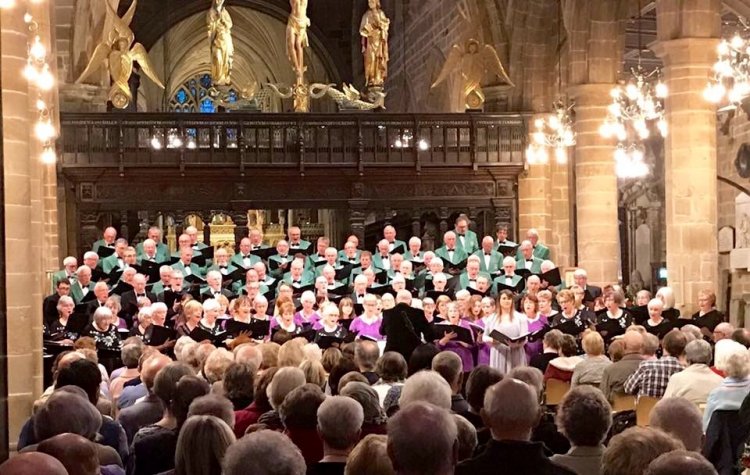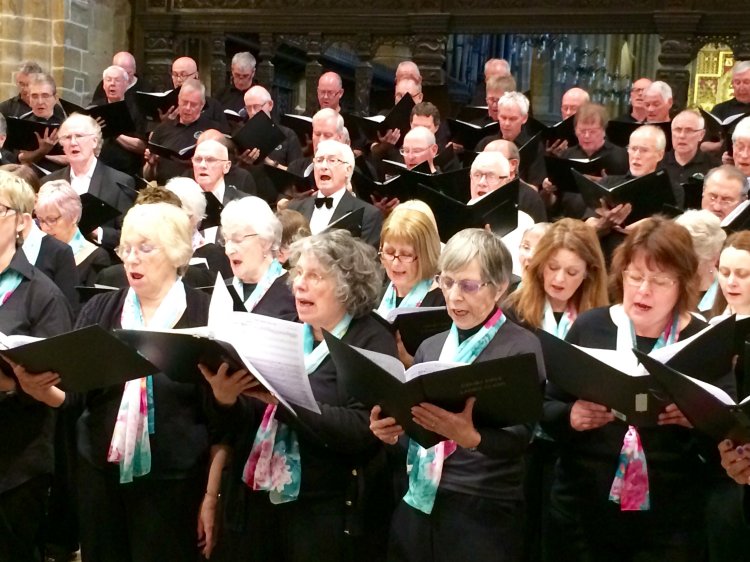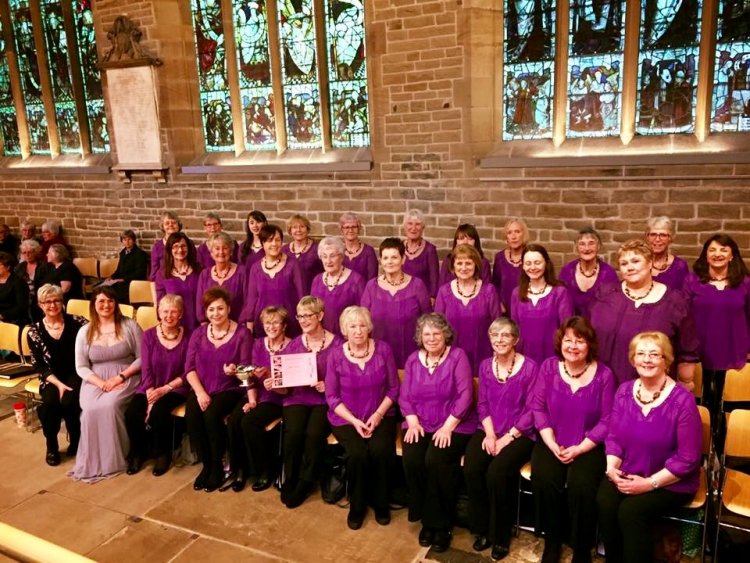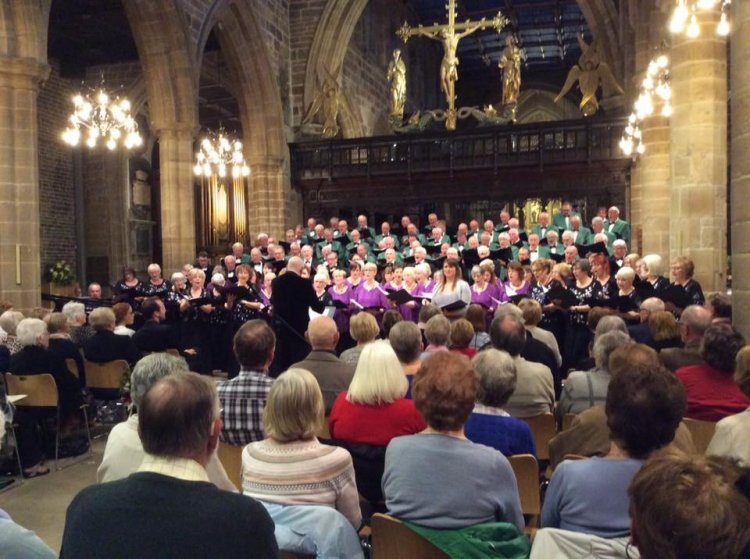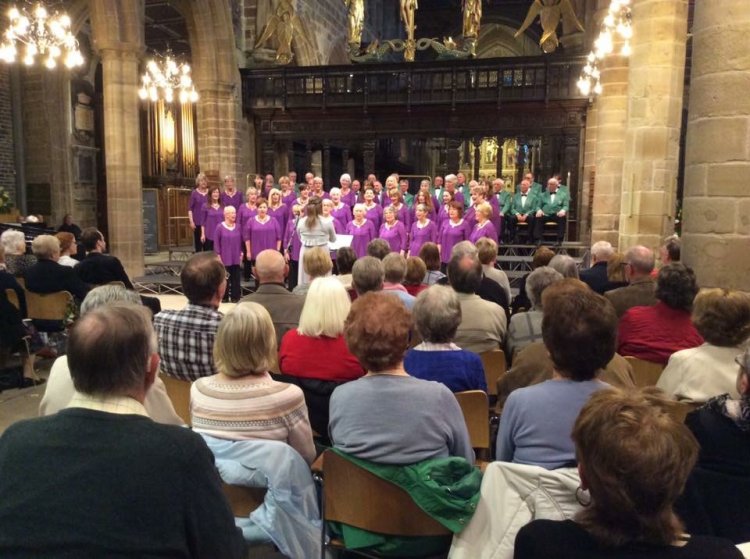 April 29th 2017
Memorial Concert Denby Dale Chapel
The evening was a fitting memorial tribute to a wonderful choir member Dorothy Hunt, who sadly passed away earlier this year. Denby Dale Ladies Choir invited 'The Mastersingers' to be their guests for the evening. The ladies performed a varied repertoire from, The Lord Bless You and Keep You, She's Like a Swallow to Swing Low and Mr Blue Sky. A solo was performed by Pam, 'The Little Brown Bird', which apparently was one of Dorothy's favourites. The Mastersingers performed various songs from, I Got Rhythm, And so it goes to Reach for the Stars and Bohemian Rhapsody. It was a most enjoyable evening, but a poignant one too. Proceeds from the raffle will go to Dorothy's chosen charities which are RSPB and Kirkwood Hospice.

Thank you to everyone who made the evening such a wonderful experience.

November 12th 2016
Choir concert with Newquay MVC
On Saturday, 1st October, a very warm welcome was extended to Newquay Male Voice Choir when the gentlemen travelled from Cornwall to West Yorkshire to join Denby Dale Ladies' Choir in concert. During Saturday the two choirs were hosted at Cannon Hall by 'The Friends of Cannon Hall' when they sang in the Great Hall. Newquay Male Voice choir sang Cornish songs, acapella style, and Denby Dale Ladies sang a varied programme, including some songs from the shows. On Saturday evening the two choirs gave a concert at Shelley Village Hall with a very entertaining programme, to the delight of the audience. James W Morgan was the Musical Director of Denby Dale Ladies' Choir and Richard Braebrook the MD of Newquay Male Voice Choir. The audience were invited to join in some of the songs, along with the joint items like Morte Christe and Jerusalem.

The ladies provided supper, after which the gentlemen entertained with their Acapella group, Oll an Gwella (the old Cornish language, for All the Best). An invitation was extended to the ladies' choir for a return visit to Newquay in two years' time, by the spokesperson of the Newquay choir, Jim Christopher.

At this concert a presentation was made to the Forget Me Not Children's Hospice representative, Mr David Simmonite who thanked Denby Dale Ladies' for the £500 raised at a Queen Tea in June.

In the photograph from left to right:
Liz Booth, Chairperson of Denby Dale Ladies' Choir presenting a cheque to the Forget Me Not Children's Hospice representative, Mr David Simmonite.
Newquay Male Voice Choir
Denby Dale Ladies' Choir

Saturday 1st Octover 2016
Queen Tea
It began in the morning with lots of table and chair arranging followed by banners, flags, table dressing, counting plates, cups, saucers, etc. All hands were on deck at Shelley Village Hall for Denby Dale Ladies choir Queen Tea concert. Lots of behind the scene preparations also took place with the creating and buying of decorations for the hall, baking cakes, making trifles, organizing the event and selling tickets.

Approx 90 tickets were sold outweighing our expectations completely. So we knew it was going to be hectic but fun and I don't think anyone was disappointed, what a fab concert and a great atmosphere.

All of the choir were dressed in red, white and blue sang a varied repertoire from Gershwin for Girls, My Lord what a Morning to Mr Blue Sky and Run. We had solos from Pam, Sylvia and Sandra who sang fantastically, and not forgetting Sarah (our director) and Sue (our accompanist). All this was completed with a proms finale complete with flags, along with the audiences' participation in singing Jerusalem, Land of Hope and Glory and not forgetting the National Anthem to celebrate our Majesty the Queens 90th birthday.

This was followed by sandwiches, cheesecake, trifle, cream teas and cakes galore. What a spread!! Tea and coffee flowed endlessly and to finish the afternoon off the raffle was drawn with lots of prizes generously donated.

Proceeds of the concert are going to the 'Forget Me Not Children's Hospice' and a total of £661.88 will be donated. Well done to everyone for the fantastic amount raised and for making it a memorable afternoon.

Our next event is a memorial for a former choir member Dorothy Hunt who sadly passed away earlier this year.

Saturday 18th June 2016
DENBY DALE REALLY HAS GOT TALENT
On Friday 20th November 2015, Members of Denby Dale Ladies' Choir showed they could do more than just sing. Members and guests enjoyed a wonderful social evening and talent competition at the Pie Hall. An abundance of talent was presented by choir members including singers, actors, tap dancers, a Magician, Yorkshire Dialect reading, poems and recitations. The acts were accompanied by Sue Ogden and judged by Sue Beatty and Neil Keer, who gave their constructive comments and praise to each of the acts. The winners of the competition were Julia Hayes and Sylvia Fell who sang and acted the comic 'Cat Duet' by Rossini.

During the interval a cheque amounting to £409.54 was presented by Sarah Ogden, Musical Director of the choir, to Yorkshire Air Ambulance Volunteer, Dave Jessop. The money was raised by the choir at a Concert and Cream Tea on 3rd October 2015 in Shelley Village Hall.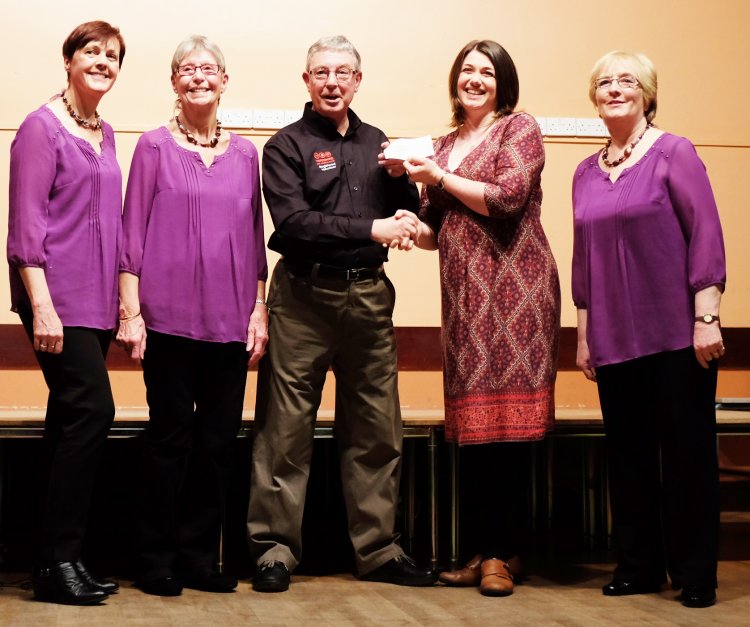 In the photograph from left to right:
Julia Hayes & Sylvia Fell (winners of the talent competition), Dave Jessop (Yorkshire Air Ambulance Volunteer) Sarah Ogden (Musical Director) and Sylvia Lodge (choir member)
Friday 20th November 2015
Festival of Brass & Voices, Royal Albert Hall
For the fourth time, Denby Dale Ladies' Choir was invited to participate in this magnificent concert at the capital's iconic performance venue, the Royal Albert Hall. Accompanied by the world-famous Grimethorpe and Cory Brass bands and the RAH's Great Organ, the massed voices from more than 50 choirs sang a wide range of pieces from Mozart and Verdi to John Rutter and Lloyd Webber. The highlight was perhaps the moving performance of Crimond, when the house was in darkness save for of thousands of twinkling badges bought and worn for Cancer Research UK, the beneficiaries of this very special evening.

As always, DDLC members enjoyed our wonderful weekend in London. Few choirs have the regular opportunity to sing to a huge audience at this amazing venue - and with the best bands in the world! It's a huge honour, great fun and a lovely opportunity to be together as a group of friends.

The charity hopes to have raised over £100,000 from the 2012 event.

Take a look at our Gallery to see pics of our fabulous weekend in London…

2nd – 4th November 2012
Our MD is now a Countess…!
We're proud to report that Sarah Ogden is receiving fantastic reviews for her performances as The Countess in the Young Opera Venture's production of Mozart's The Marriage of Figaro. Click here to take a look at Val Javin's profile of Sarah's work…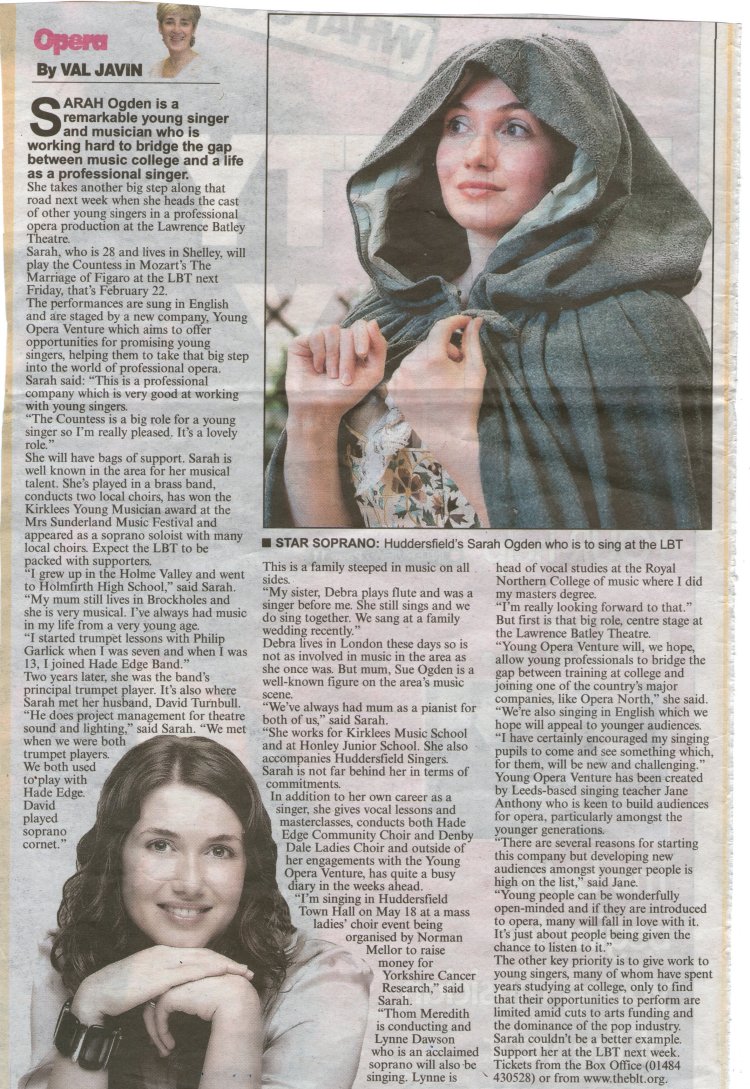 Winter - Spring 2013
Joanne and Ryan Johnson's wedding
"Thank you so much to Denby Dale Ladies' Choir for singing at our wedding on 30th June. It really made the ceremony special. Thank you again!"
Ryan and Joanne
30th June 2012
Music for springtime in Barnsley
"Your performance was outstanding in every way. I have received many extremely favourable comments both last night and earlier today. Please pass on our thanks to everyone involved.

It would be greatly appreciated if you could let me know the start time of your concert on Saturday 19th May at Denby Dale Methodist Church and if tickets are available 'at the door'. Some of us who now form your 'Barnsley Fan Club' hope to be there!"
Jeni Dore, Event Organiser, Salem Church
May 2012
In the press… Mrs Sunderland Festival 2012
"ORGANISERS are celebrating a bumper year after more than 3,000 competitors took part in the Mrs Sunderland Festival. The eight-day event ended on Saturday evening with a special concert to celebrate the Queen's Diamond Jubilee.

Colne Valley Male Voice Choir, Denby Dale Ladies Choir and Holme Valley Singers were among the performers at Huddersfield Town Hall. They were joined by Lindley Junior School Choir and a combined choir from Rastrick High School and Leeds Youth.

Festival organiser Rosalind Watt said: "It was an absolutely fantastic culmination to a wonderful week. We ended with the choirs from Colne Valley, Rastrick and Leeds on stage singing Rule Britannia and Jerusalem with all the choirs in the audience joining in and the children waving Union flags."

Mayor of Kirklees, Cllr Eric Firth, attended Saturday's concert along with the Deputy Lord Lieutenant of West Yorkshire Peter Sunderland…

Denby Dale Ladies Choir were among the performers on Saturday. The group came second in the Ladies Choir class after performing The Snow by Edwin Elgar and Diamonds Are a Girl's Best Friend.

The choir were also runners-up in the Kirklees Choir category after singing Chattanooga Choo Choo and We've Only Just Begun.

Conductor Sarah Ogden said: "I was really pleased to come second, the ladies sang really well. I've only been conducting them for 18 months and in that time they've gone from strength to strength. The standard was very high. Mrs Sunderland is a big competition and you get choirs from all over the country.

We've been practising for this since October because you want everything to be perfect."
Huddersfield Examiner
March 2012