Competitions
Recent competition news
Mrs Sunderland Competition 2018
We sang with much gusto, and against formidable competition were awarded third place in both the classes that we entered which was a huge accolade to the enthusiasm and dedication of choir members and the patience and hard work of our indefatigable Musical Director Sarah Ogden, who has managed to bring the choir on in leaps and bounds since she first took up the role in 2010.
Our repertoire this year included:
Ladies Class
It was a lover and his lass and My Lord what a morning.
Performance Class
It don't mean a thing, A Nightingale sang and Would like to meet.
Eskdale Festival of Arts 2017
On 8th April 2017 the ladies competed at the Eskdale Fesitval of Arts National Choir Day, winning the 'Ladies' Choir' class to regain their trophy from 2015! It was a beautiful, sunny day in Whitby and the ladies were in fine voice. There was a high standard of competition from 13 other choirs who were adjudicated by Barbara Lowe and the ladies also were placed 3rd in 'Songs from the Shows'.
Class details:
Ladies Class – Awarded 1st Place
Chattanooga Choo Choo (Mack Gordan and Harry Warren)
Water of Tyne (Trad. Arr Michael Neaume)
Songs from the Shows – Awarded 3rd Place
Can't help lovin' that man of mine (Rogers and Hammerstein)
Choir Recital Class
The Look (Jussi Chydenius)
And so it goes (Billy Joel)
Defying Gravity (Stephen Schwartz)

Even though the choir were busy competing in 3 classes, the ladies still found time to enjoy some fresh air and fish and chips!
Eskdale Festival of Arts - Saturday 9th April 2016
After last year's hat trick we knew we had a tough challenge on our hands this time around. How could we possibly achieve three 1st prizes again? Unfortunately we couldn't but alas it wasn't that we didn't try hard.
Song from the shows class:-
Hail Holy Queen
Comments: A well considered performance. You have this song - try to relax and give it to us, you can enjoy it! (It must have been the 'habits' we all wore that made us nervous).
This gained us a disappointing second place with a score of 85 points.
Ladies Choir Class: -
Set piece 'Wishing you were somehow here again' (Hart/Stilgoe/Weber)
Comments; the piece started with a well sung solo (Catherine Winter). The choir joined in sensitively and sang with control. Harmony is well balanced and dynamic work.

'The Blue Bird' (Stamford)
Comments: sung with control, rhythmically accurate mostly and diction clear.
We achieved a 3rd place score of 85 points - commended, in this class.
Choir Recital Class:-
'In the Woods' (Butler), 'My Lord what a Morning (arr Neaum), 'Mister Blue Sky' (arr Morgan)
Comments: Sam said the choir sang with control, the sounds are well balanced and blended with clear words and convincing singing. Mister Blue Sky started with some humour, convincing singing, clear words and a great Kazoo solo.
We achieved a 3rd place score of 86 points - commended in this class.
'What a dream day - 'A Hat Trick'
Denby Dale Ladies Choir brought home the silver on Saturday 11th April 2015, in fact three silver cups, first prizes from the Eskdale Festival of Arts National Choir Day at Whitby Pavillion. The choir beat off some very experienced and accomplished choirs with encouraging comments from the adjudicator, Mr Jeffrey Wynn Davies, who said that Denby Dale Ladies gave him every detail which was on the music score, including diction, musical detail, theatrical and stage presence.
The choir was conducted by the Musical Director, Sarah Ogden, who is herself an acclaimed soprano soloist. The accompanist was Sue Ogden (Sarah's Mum)
The classes achieved were:
Choir class - 1st prize
'Defying Gravity' (Stephen Schwartz, arr. Roger Emerson), and 'There is no Rose' (Benjamin Britten)


Songs from the Shows - 1st prize
'Diamonds are a Girl's Best Friend' (Leo Robin, Jule Styne, arr. Harry Simeone)


Choir Recital Class -
Blow Blow, Thou Winter Wind' (Philip Lane)
'A Clare Benediction' (John Rutter)
'It Don't Mean a Thing if it ain't got that Swing' (Duke Ellington, arr, McHuff)
This success follows on from when the choir took part in the Mrs Sunderland Competition February 2015, including being invited, for the 4th year running, to take part in the prestigious Gala Concert in Huddersfield Town Hall.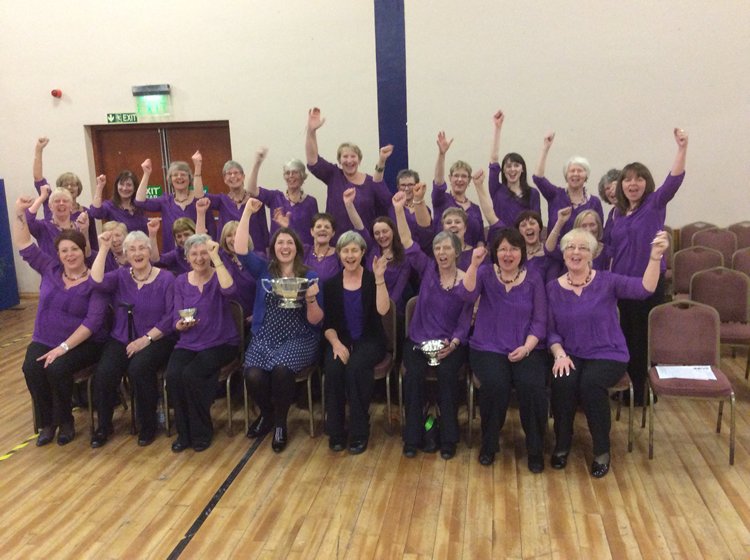 Mrs Sunderland - 27th February 2016
We sang with much gusto at the competition, giving our best voices but it wasn't to be. Unfortunately, no prizes this time around as there was some very strong competition and even though we gave of our best, we didn't impress the adjudicator!! Even Gill's belly solo on the piano didn't sway him our way either. We did get some good feedback though and received 'Commended and two Distinctions'.
Our repertoire this year included:
Ladies Class:
My Lord what a morning and In the Woods.
Programme Class:
Cross the wide Missouri, The Blue Bird and Mister Blue Sky.
Hey, we will show them all at Eskdale Festival in Whitby on April 9th. Mind you saying that after last year's three first prizes, I'm not sure we could possibly top that again but I'm certain we will give it a really good go.)